After inheriting his title from his brother, the margrave has two weeks to find a noble bride. What will happen when he learns he has fallen for a lovely servant girl in disguise?

The Margrave of Thornbeck has to find a bride, fast. He invites ten noble born ladies who meet the king's approval to be his guests at Thornbeck Castle for two weeks, a time to test these ladies and reveal their true character.

Avelina has only two instructions: keep her true identity a secret and make sure the margrave doesn't select her as his bride. Since the latter seems unlikely, she concentrates on not getting caught. No one must know she is merely a maidservant, sent by the Earl of Plimmwald to stand in for his daughter, Dorothea.

Despite Avelina's best attempts at diverting attention from herself, the margrave has taken notice. And try as she might, she can't deny her own growing feelings. But something else is afoot in the castle. Something sinister that could have far worse—far deadlier—consequences.
The Beautiful Pretender is a sweet medieval fairytale story with sort of an upstairs/downstairs theme. A lady's maid is sent in her mistresses sted to a gathering of maidens at a Margrave's estate nearby where he will choose one of them to wed. She is to go, and not offend anyone, but certainly not let herself be chosen as his bride. Want to guess what happens? The plot is predictable but there are plenty of tricky situations along the way. This book feels geared toward teens, and while for the most part I think her audience will love it, the romance described is at times more mature than I would like to see. Not what I would want my daughter reading in a couple years, and I don't understand why it has to be that way. So I am left feeling that this book straddles a line, one foot in teen fiction, another definitely adult ... I think the author has to tone down the romance or write to an older audience.
I've read a few of her fairytale romances and while I enjoy them and would love to share them with my daughter in a year or two (the bigger reason I read them in the first place), I am hesitant to do so because I feel the romance goes too far once or twice in each book and that I find very disappointing.
I received this book from Zondervan and BookLook for the purpose of an honest review. My opinion is my own.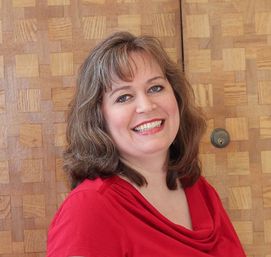 About Melanie:
Melanie Dickerson is an award-winning author who earned her bachelor's degree in special education from The University of Alabama.
She has taught in Georgia, Tennessee, Germany and the Eastern European country of Ukraine.
A member of American Christian Fiction Writers (ACFW) and Romance Writers of America (RWA), she now spends her time writing and taking care of her husband and two daughters near Huntsville, Alabama.